PHYSICAL CHARACTERISTICS
| | |
| --- | --- |
| Size: | 7" H x 16.91" W x 20" D |
| Weight: | 65 lbs. |
| Rack Mount: | RS-310 RETMA |

ELECTRICAL CHARACTERISTICS
| | |
| --- | --- |
| Power – Standard: | 115 - 230 Vac, 47 - 440 Hz |
| Power – Optional: | 28 Vdc |
| Power Consumption: | 150W |

PERFORMANCE CHARACTERISTICS

| | |
| --- | --- |
| Backplane: | Passive or Active |
| CPU Cards: | Customer Definable |
| Main Memory: | Customer Definable |
| Video Card: | Customer Definable |
| Aux. I/O Card: | Customer Definable |
| Interface: | Customer Definable |
| Hard Drive: | SCSI-UW 3.5" up to 120GB |
| Tape Drive: | DAT up to 8GB |
| Floppy Drive: | 1.44MB |
ENVIRONMENTAL CHARACTERISTICS
Temperature:
Operating: -25°C to 55°C
Storage: -40°C to 70°C
Humidity:
10% to 98%, Non-condensing
Sand, Dust:
Highly resistant
Rain:
MIL-STD-810E, Method 506.3, Procedure II
Fungus:
MIL-STD-810E, Method 508.4
Orientation:
±30° from horizontal, any axis
Vibration:
MIL-STD-810E, Method 514.4, Procedure I
Shock:
MIL-STD-810E, Method 516.4, Procedure VI
Altitude:
Operating: 15,000 ft.
Non-operating: 40,000 ft.
EMI/EMC:
MIL-STD-461C, CE01, CE03, CS-1, CS06, RE02, TS02, RS03
ESD:
MIL-STD-1686A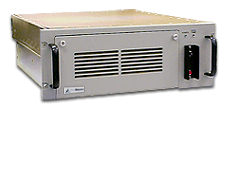 Model 7204 is a new member of DataMetrics™' lineup of rack mountable Rugged Commerical-Off-The-Shelf (RCOTS) chassis products. Originally designed as a dual processor server chassis deployed in the Iraq conflict, Model 7204 meets essential highreliability MIL standards, such as 810, 461 and 1686. Moreover, it is highly resistant to airborne dust and sand. Easily-accessed air filters make service simple and fast.
As with many of DataMetrics™ COTS and RCOTS chassis, Model 7204 is available in various standard configurations, notably passive backplanes and active motherboards. Specific backplane architectures that can be ordered include VME, VME64x, VITA 31/41/46, CompactPCI 2.1 or 2.16, and PICMG PCI. Popular motherboard form-factors that Model 7204 accommodates include ATX and mini-ATX.
With its aggressive push-pull cooling system, various CPU types will operate without issue when exposed to an operating temperature range of -10°C to +50°C. CPU examples include Intel's Pentium-M,Core2 Duo, Xeon and the upcoming Core2 Duo/Quad, as well asAMD's line of Athlon/AM2 through server-class Opteron.
Model 7204 accommodates fixed and removable drive configurations. In fact, DataMetrics™, in response to requests fromthe Military, designed a removable drive cartridge/frame system optionally featured in this model and in service in the Middle East, and is available as an ordering option. Custom configurations are available. Contact your local DataMetrics™ representative or DataMetrics™ directly.
7204 Multi-Architecture Server Chassis Data Sheet - PDF